This page is still being modified.
Alligator Homepage
The world's first homepage dedicated to Alligators
---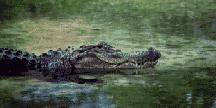 ,

---
Nice of you to have chosen to learn much more about one of the world's most interesting animals, the alligator. The point of this homepage is to give you, the internet browser, the full truth about these beautiful animals and hopefully shed more light on the animal kingdom as a whole.
Here are a few links for those who want to learn more about alligators:
This is only a small modest list. However, do expect more information to come all the time. If you have any ideas or comments, please send to C. Any comments or new ideas are most welcomed!


Thank you kindly!
---
This homepage was done on HotDog. HotDog is an excellent programme from Oz and I would recommend it for all who want to write homepages. Connect to HotDog for more details.
---
people have read this page since its evolution.